Let me share a horror story with you.
Back in 2018, a good friend of mine decided to work with an SEO agency that promised him the world. Within a month, their "strategy" was ready, and they started producing content.
The first red flag he saw was that the content production was obviously outsourced to low-cost third-party writers.
The drafts were filled with fluff, keyword-stuffed, and poorly structured.
Upon deeper inspection, the so-called "SEO strategy" was nothing more than brainlessly trying to rank for high-difficulty keywords with the most volume and some low-quality backlinks – praying it works.
Yikes.
My friend's business suffered as a result, pushing his progress months (if not years) back & costing him thousands & thousands of dollars.
It took a lot of time, energy, and money to recover because he had to do a complete content & SEO audit, restructure everything, and build up his authority from scratch.
The moral of the story is that picking the wrong agency to work with can seriously mess up your company's growth and make a big dent in your wallet.
In this article, we'll share our insider criteria for evaluating content marketing & SEO agencies, as well as some of the best ones on the market in 2022.
Bonus: We talked with the founders of these agencies to obtain unique insights on their USP and perfect client candidates.
Let's start from scratch.
Before we begin: Should you even hire a content agency?
Content marketing is easy… if you're doing it wrong.
It's "easy" in theory, but executing it correctly and later pivoting is damn near impossible for a team with no experience.
For that reason, most companies opt for one of these three options:
Create an in-house team

Hire an agency

Wing it.
As you can guess, winging it is almost always wasteful because the company management lacks knowledge and pushes work to their existing employees who don't know any better.
Creating an in-house team is recommended if you:
Have deep pockets to create an entire content marketing department.

Keep in mind that now you're dealing with recruitment, employee management, salaries, onboarding, vacations, and more. It's something leaner tech companies usually try to avoid.

Want more control and flexibility.

When pivoting in strategy or execution, it's typically easier to just make the switch internally instead of re-negotiating retainers with your agency. You aren't dependent on external parties for content strategy & production, and expertise stays in-house.

Have time to train your employees.

There's nothing more delightful than having all the time in the world to slowly onboard your employees and ensure quality is to your liking. 
In my experience, companies are working on tight schedules and need to start producing content immediately to hit their quarterly goals.
In that case, working with an agency is better. Here's why:
Kick-start content production RIGHT AWAY. Experienced agencies have a team ready to start working on your project immediately. This means you don't have to wait or find the right people for your needs.
They can set up your strategy. Experienced agencies know how to craft effective plans that get results. They should have experience in your niche and know the ins and outs more than anyone.
It's cost-effective. You don't have to pay for someone's salary, health benefits, software, or training. You also don't have to worry about managing them. All of that is handled by the agency.
When you work with an agency, you can leverage their expertise to scale faster. This includes writers, designers, and strategists.
To better understand when & why to hire a content marketing agency, we've written a short and spicy text explaining everything.
If you are considering other options, check out Cost Breakdown: Content Agency vs. In-House Team vs. Freelancers.
5 Criteria for Hiring a B2B Content Marketing Agency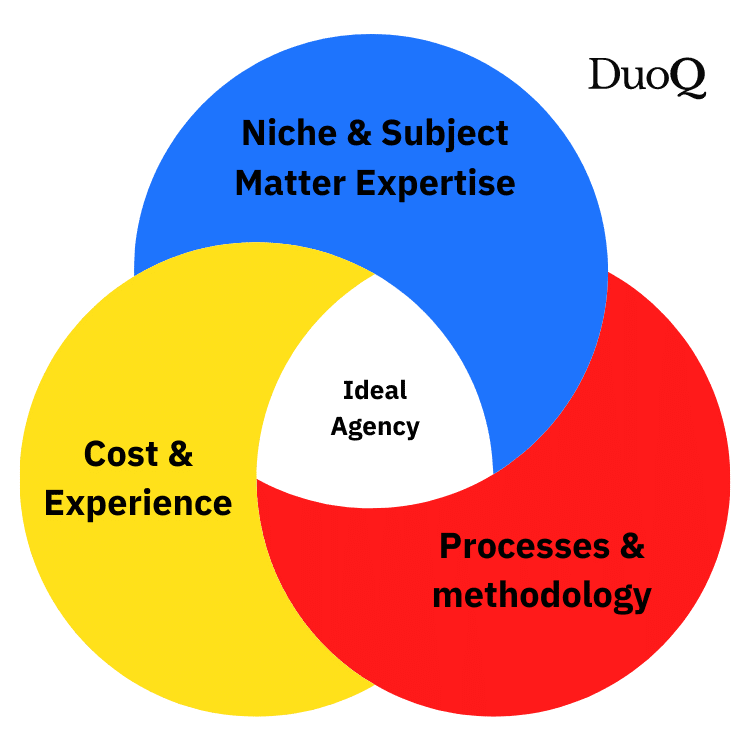 Here's what I would look for if messing around wasn't an option.
Cost
With content production, you pretty much get what you pay for. If you're working with an agency that charges rock-bottom rates, you can expect subpar content.
That said, you don't want to overspend on your content, either. With higher costs, you might decide to publish less content per month and that will slow down growth.
Generally, there are two types of agencies:
Agencies competing with a cheaper service
Agencies competing with better results & business impact
Or simply, affordable agencies and premium ones.
DuoQ is a "premium" content marketing agency. This means you won't find us accepting hundreds of blog posts for a cheap price.
We prioritize quality over quantity, and quality takes time and money to create. We typically create 4-6 articles per month for our clients and we've seen some great results.
If you're playing the long game, quality is your number one priority because dull, low-quality content gets easily ignored, and it can actually hurt your brand more than not having any content at all.
Experience
Quick checklist:
Does this agency have a good reputation?
Are their case studies impressive & relevant?
Are their processes transparent?
Do they specialize in your industry, say, tech?
Is their blog regularly updated and of good quality?
If they're matching all these criteria, it's safe to say we can move along to the next evaluation criteria.
Niche & Subject Matter Expertise
If an agency tells you they can handle content writing, SEO, FB ads, social media, video production, and more – you should RUN.
The reality is most GREAT agencies specialize in 1-2 key marketing areas.
It takes a LOT of time and effort to become an expert in any field, let alone multiple fields.
Besides, aim to find one that specializes in content production for your specific industry.
If you're a B2B tech company, for example, find a content marketing and SEO agency that specializes in B2B tech.
Their content team is probably much more experienced in communicating with your target audience, their strategist will know which type of content to prioritize first and they will know how to differentiate your product better than your competitors.
Processes and methodology
A lot of agencies we will mention on our list choose to share their processes, philosophy, and methodologies openly.
This is done for a few reasons:
To show prospects a good idea of how they work and that it's run by people who know what they're doing.
To build trust and show consistency.
To differentiate from other agencies.
The agencies that skip on that are typically hiding something. Here are a few ideas:
They don't really know what they are doing.
They outsource work to third-party freelancers or agencies and act as a middle man.
Maybe they're trying to keep their methods a secret so you can't compare them side-by-side with others. But if you have an awesome process, don't you want your prospects to know?
Or they're just too lazy to write it all down.
In any case, you should be able to find information on an agency's processes and methodology on their website (or by asking them directly on initial calls). If they can't explain how they work, that's a red flag.
We recommend avoiding such agencies.
Case studies and work samples
Case studies are usually made up or deliberately enhanced by leaving out an important chunk of information.
This doesn't necessarily mean that agencies are lying, so here's an example:
Let's say they have a case study stating that they worked with Airbnb and increased the amount of organic traffic by 120%.
That sounds great until you realize that Airbnb already had enormous traffic and a substantial internal marketing team, who probably outsourced some organic activities to the agency.
The case study makes it seem like the agency is solely responsible for growth, but there were many contributing factors in reality.
Best B2B Content Marketing agencies in 2022
DuoQ Digital
Grow & Convert
Optimist
Foundation
Siege Media
Omniscient Digital
Flying Cat Marketing
P.S. This list isn't written in any particular order. All the agencies are amazing in their own category.
Additional read: Check our expert analysis of great B2B content marketing strategies.
1. DuoQ Digital
What makes us different?
We're obviously a bit biased, but we have a good reason for it—so hear us out.
While we don't have the biggest portfolio on the list, our quality is on-par with most agencies on the list. But, there's a catch: we're significantly more cost-effective.
"But I'm not looking to save money, I want the best agency". I hear you.
But if ROI is your top priority, it makes more sense to pay for more high-quality content pieces per month than fewer prestige ones.
Some agencies on the list might provide a slightly better service, but at a drastically higher price.
The name of the game is you need a ton of high-quality content to get jaw-dropping results.
To learn more, we've written extensively on our process & philosophy for content marketing.
Who is our ideal customer?
We primarily work with B2B SaaS companies and crypto companies that have a product-market fit. Ideally, companies in post-Series A and B, with a marketing team or an executive with marketing experience so we don't have too much unnecessary friction.
We pick projects that excite us and that we believe will make awesome future case studies.
If you want to become a part of that, feel free to get in touch!
What makes them different?
Grow and Convert started out as an educational platform, teaching others how to create quality content. With time their users expressed the need for an experienced agency, instead of doing it themselves.
That's how Growth and Convert transitioned into a premium full-service B2B and B2C content agency. Their focus is on the bottom of the funnel content that drives leads and customers.
Besides content production, they offer content distribution and promotion services which can speed up the time it takes for a content piece to rank.
Who is their ideal customer?
Their ideal clients are businesses in need of advanced level content, for advanced customers, looking for attracting sales, not traffic.
Their pricing starts at $10,000/month, which includes 3 articles, content strategy, customer research, promotion of that content on Twitter and Facebook, targeted link building, and reporting.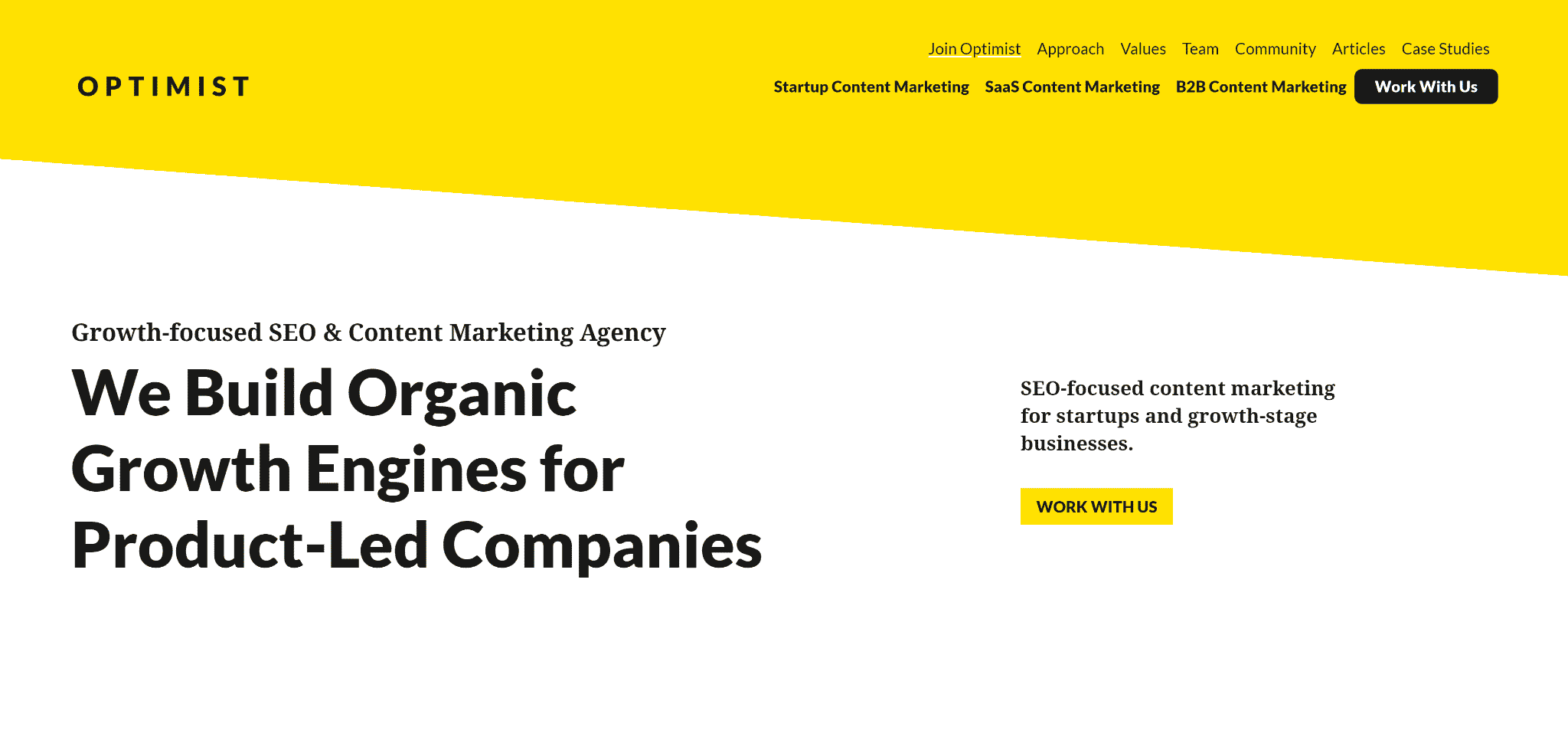 What makes them different?
They're hyper-focused on building a long-term organic growth engine for their clients.
This means that they build a roadmap of the topics that are most important to the client, their customers, and the business. Their goal is to own these topics completely and build a sustainable advantage through SEO and content.
Who is their ideal customer?
Optimist is ideal for companies in the early growth stage. Generally Series A.
The reason why you should hire them at this stage is because they can help you move fast and scale organic/inbound growth with proven frameworks, processes, and a full-service team.
What makes them different?
Foundation is different from most content marketing agencies because they don't just create content—they also help clients to distribute content effectively online.
They tackle everything from research to content distribution, helping B2B SaaS brands unlock the potential of past and current content marketing initiatives to drive meaningful and measurable results.
Their content strategy engages customers across the funnel, rather than developing just a list of blog posts.
Who is their ideal customer?
Foundation works with SaaS companies who have already demonstrated product-market fit and are looking to leverage content to drive organic growth that leads to their north star metric.
These companies are typically post Series-B.
If you fit that description and look for an agency that emphasizes the idea of using content marketing activities to have an impact on real business metrics, you might be their ideal client.
What makes them different?
Besides being one of the biggest content marketing agencies on the list, they are the ones that heavily focus on design as a competitive advantage.
Check their website and see it yourself.
They are doing a blog UX design and development along with content production, as opposed to other agencies on the list that primarily focuses on written content and SEO.
Who is their ideal customer?
Siege Media mainly works with enterprise clients; they can be expensive on a small task basis but will deliver a ton of value.
If you have deep pockets and want a safe and proven approach to content with an emphasis on design, they may be the right fit.
What makes them different?
Founders of Omniscient Digital come from business and marketing strategy backgrounds, hence their focus is on creating content that helps you meet your business goals.
They specialize in product-led content, SEO, thought leadership, and brand awareness.
Omniscient offers link building and social media promotions as complimentary services.
Who is their ideal customer?
Omniscient Digital works with businesses looking for full-service content marketing, which includes extensive content strategy and production.
Their pricing starts at $10,000 for content strategy, and at $8,000 for content production.
What makes them different?
Flying Cat Marketing is a Latina-owned SEO and content marketing agency. They focus on targeting higher-ACV segments and maximizing MRR through SEO.
They use their own proprietary Foundation, Growth, Scale (FGS) framework to optimize your website against various metrics for On-Page, Off-Page, and technical SEO.
Who is their ideal customer?
Flying Cat Marketing partners up with B2B SaaS businesses that have at least $4M in revenue, or minimal service pricing of $60-$90/month.
Their primary niches are marketing and technology, HR technology, and hospitality technology.
Conclusion
There are a lot of different content marketing agencies out there that can help you get the job done, and we recommend choosing one that fits your budget, has transparent processes, and has a strong portfolio to prove results.
When it comes to answering the question of which one should you hire, I might come across as shameless and say that I believe it should be DuoQ Digital.
Our goal is to build an SEO content production engine that runs smooth like butter and delivers leads—without breaking the bank.
With that being said, schedule a call, and let's discuss your goals 🙂